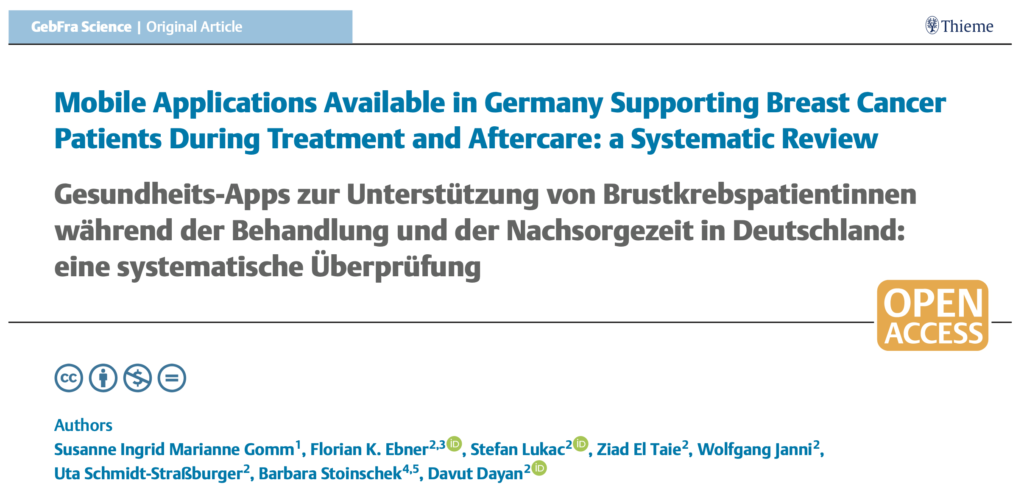 Background: Mobile apps are being used for many aspects of everyday life, such as shopping, banking and fitness. Currently, there aren't many apps that have been designed to support people affected by cancer, specifically breast cancer.
Objective: This systematic review aimed to assess breast cancer health apps based on various factors to see if mobile apps available in Germany can support and aid remote monitoring of Breast Cancer Patients during treatment and aftercare.
Methods: A search for breast cancer apps took place on 29th January 2021. Apps that mentioned terms breast cancer, breast cancer therapy or breast cancer aftercare were included in the review. Apps were excluded if they were about cancer in general, other cancers, medical guidelines, lifestyle, not available in German or English, had less than 100 downloads or if they were no longer available. The apps were then evaluated by three examiners based on factors including scientific accuracy, user-friendliness, data protection, customisation, costs and motivation for patients. The examiners the decided if they recommended, partially recommended or not recommend the app.
Results: Of 776 apps identified through search terms, 36 were included in the review after applying the exclusion criteria. 20 apps were not recommended, 12 were partially recommended, 4 were partially recommended by two examiners and recommended by one examiner. Three apps, including OWise, were recommended by all three examiners. OWise received the highest score, which was 10% higher than the second highest ranking app.
The examiners recognised that OWise effectively supports patients through features that: enable information to be retrieved at any place and time, allow time to reflect on information from appointments, explain medical terms simply, aid with processing feelings and relieving stress through keeping an in-app diary, share side effect data directly with care teams and store data securely.